Woom 4 | Bike 20 inch | 6-8 years | 115-130 cm | 7.8 kg
The 20" WOOM 4 with its optimized geometry is build for enhance riding dynamics. With 8 gears and light off road tires it is perfect for exploring and an extended usage.
Highlights
The WOOM4 bike has the following outstanding characteristics:
High quality and light components; Overall weight 17lb 8oz (7.9kg)
Geometry designed for the youngest of riders
8- Speed SRAM X4 twister shifter (trigger shifter available at no charge)
How is the bike delivered?
WOOM Bikes are perfectly prepared and almost completely assembled when they are shipped. Only a few small adjustments are necessary to get the bike ready to ride. Assembly instructions along with the necessary tools are included. 
Install the front wheel. 
Attach the head set and tighten the 6mm bolt firmly using the allen wrench. 
Adjust brake 
Install Pedals 
Adjust saddle height and ready to go
Geometry
For bike enthusiasts, here the details: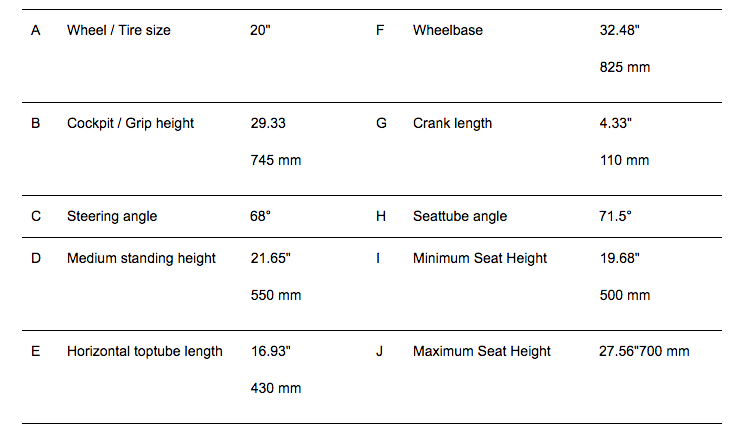 Frame Material: Light and high quality A-6061 Aluminum - Beginner geometry with 16" wheel size and good natured riding characteristics: Extremely low step in height, very low minimum seating position, long wheelbase, very forgiving geometry and steering limiter to avoid over-steering; Set up provides maximum stability, excellent balance and safe straight line riding resulting in increased satisfaction - Continuous seat post design allows for maximum saddle height adjustment.
Fork: light unicrown fork made out of aluminum - 1" shaft - designed for ease of steering.
Headset: semi-integrated 1" headset = sealed ahead set made out of steal and aluminum - integrated ahead clamp.
Steering limiter: There is a small rubber ring connecting fork and frame - The rubber ring stabilizes the steering and supports riding in a straight line. This prevent unnecessary accidents when learning to ride.
Stem: Forged Aluminum - 40mm - +10° - no protruding screws in this fully integrated and proprietary clamp design - we call it the knee-friendly design - the handlebar is connected with two 6mm bolts.
Handlebar: wide, ergonomic, and light aluminum handlebar for more control - BMX style with high rise for maximum adjustability - sand blasted and black anodized - designed for small hands with a 19mm diameter - Width: 470mm.
Handles: reduced diameter for extra small hands - free of softeners and pollutants - grippy diamond structure - handle bar ends contain rubber plugs for additional cushioning and safety.
Brakes: Two independent hand brakes - Mini V-Brake with levers suitable for small hands - small hand reach brake lever with reach adjustability and ergonomic fit for very small hands - soft green brake pads in the rear for excellent braking power with little brake usage -hard (black) front brake pads for safe and regulated braking - Rear brake lever is green with the same color rear brake pad for ease of differentiation of front vs rear brake - high quality Jagwire bowden cable for low friction and ease of operation.
Crank: Light forged aluminum cranks with 95mm length and low Q-Factor (low width between both legs) - Beginner ratio: 25T front and 16 rear - plastic pedals - molded cartridge chamber - Easy to operate V Hand brakes without coaster/foot brake.
Wheels: Super light Soopa-Doopa-Hoops Aluminum rims - small Aluminum hubs for extended leg room at the rear wheel - sealed bearing hubs - wheel can be installed and removed with 5mm allen wrench - 16 Niro spokes 1.8 straight spokes.
Tires: Kenda Small Block 1.5"x16 light weight low profile balloon tires offer great damping, rolling performance and a lot of grip - Schrader valves (car valves) to inflate easily.
Saddle: Age specific and ergonomically designed and molded - Free of pollutant and toxins - side safeguard to lean against wall.
Seat post: Anodized aluminum seat post - integrated maximum insertion indicator.
Seat post clamp: Aluminum quick release seat clamp with long lever for ease of use and operation - clamp is safely secured against unnecessary movements.
Weight: 12.26 lb (5.56kg)